I was one of those lucky kids whose family went to Disneyland every year or two. Star Tours was (and is) one of my favorites. One of my fondest memories is exiting the ride, through the gift shop (naturally), and drooling over the replica Stormtrooper helmet high up on the shelf. A full sized, real deal nerfherding Stormtrooper helmet. I wanted it. Little 10-year-old me didn't have the big bucks to buy it but boy did I get an eyeful after every trip gone awry through space. After all, looking is free.
So what does the (disputable) adult me do when I'm the bride and can do ANYTHING because it is MY* wedding?
I claim I need a Stormtrooper helmet.
What nerd doesn't want Stormtrooper helmets on their special day? You're all dressed up. You paid a lot of money for, well, everything. You're the center of attention. The. Entire. Time. Drop a helmet on your head and hide out a bit. It's an introvert's perfect solution!
Thanks to the popularity of the Star Wars franchise, Stormtrooper helmets can be ordered online now and at a relatively cheap price. I picked one up for about $33. But – it's just wrong. Nothing to do with morality or ethics. The actual details of the helmet are wrong. It very much veers away from what's used in the film version. I explained this to Future Husband and he didn't seem to mind.
Once I regained consciousness, I explained to him my plan for restoring movie-accurate details to the helmets. He had concerns:
"It'll take a long time. Is it worth it?"
"It is worth it. I'll make time."
"Have you done this before?"
"No."
"What if you can't do it?"
"I'll get it done."
"You sure?"
"No."
"You really want this, right?"
"Yes."
He gave me his blessing and I trotted out on my quest for semi-accurate Stormtrooper helmets (aka Buckets) for my guy and me. It's dangerous to go alone. One must troop in pairs.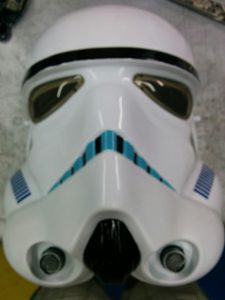 The base is the Rubies Stormtrooper helmet.
Pros:
It's the correct/recognizable basic shape.
Hard plastic so it holds its shape.
Fits over the entire head.
Fairly inexpensive.
Cons:
Extra plastic around Bubble lenses.
I wanted flat green lenses.
Frown is the wrong color.
Teeth aren't cut out correctly.
No mesh behind the teeth.
The black grill isn't painted right.
Blue stripes are wrong and recessed in a rectangular area.
I could go on in more detail. But, the above cons are just a few things that immediately stood out to me and what I wanted to fix. I'll be posting my DIY adventure in detail over a few posts so stay tuned.
---
*I very much didn't treat the wedding to be exclusively mine. My fella and I worked together on every aspect of the wedding and reception. It truly was "our wedding". I use "my wedding" in the context that I was the bride this time – not someone else.