I've been eyeballing a full original Stormtrooper kit for a while. There are plenty of options out there in this universe and each has their own set of pros and cons: material types, pricing, licensed or fan-made, hero or stunt version, kit or ready-to-wear. After loads of research, pondering, and coffee I decided to pull the trigger and go with the Anovos Classic Trilogy Stormtrooper Kit. Aaaand the pre-order was sold out.
"Nooooooooooooo!" – Luke Skywalker
I had missed my window to order by mere days or hours. I didn't quite know which. But you can't keep a good geek down! Installed Visualping to my Chrome browser to alert me when that particular page was changed in anyway. Added my name to their "Interest List". And I checked the site once a day. Overboard? Maybe. It was worth the effort.
Got a gut-punch on a Friday. Got a completed order on the following Wednesday!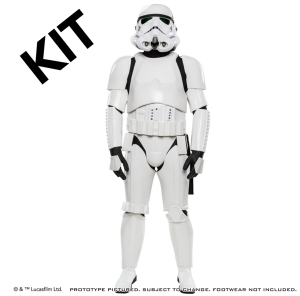 Jury is out whether Anovos periodically adds some quantities to the size of their initial runs or if some pre-orders get cancelled. Either way – there is hope out there if you were in the same boat as I was. A New Hope, if you will.
Kits aren't scheduled to ship until the first quarter of 2017 and, when that happens, expect a loud squeal from the Pacific Northwest and loads of TK Kit Building posts.
I'm getting a Stormtrooper Kit, nerds!
---
Title quote reference:
"Aren't you a little short for a Stormtrooper?"
– Star Wars Episode IV